« Back
British Officer
End user price: 12.50 €

To buy an item, you need to log in!
Code:
TB-35009
Name:
British Officer
Weight:
18 gr
Material:
resin
Pieces:
8
In stock
The Bodi product
   Sculpted by Krisztian Bodi
   Boxart painted by Oliver Kovacs

Description:
The box contains an extra head and an otpion to use walking stick or an umbrella. The figure can be even more discrete by using the 35008 headset.

Dressing and accessories:
Officer's visor cap, beret, tropical shorts, tropical shirt, tanktop, officer's lase up shoes, P37 belt, P37 pistol holster, walking stick, beach umbrella.

Literature:
Osprey Publishing, Men-at-Arms Series, 066 - Montgomery's Desert Army - ISBN 0-85045-250-3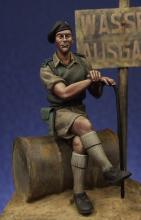 Related products
TB-35008
British Headset
1/35 scale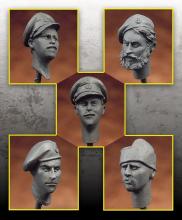 Your price:
10.20 €
To make a purchase you need to log in!