« Back
U.S. Pilot #1
End user price: 7.90 €

To buy an item, you need to log in!
Code:
C-48001
Name:
U.S. Pilot #1
Weight:
20 gr
Material:
resin
Pieces:
2
In stock
Sculpted by Krisztian Bodi Boxart painted by Oliver Kovacs

Description:
We display the well known Corpus figures renewed in high quality attended by the The Bodi for the ones who do not know it as recents goods, for the ones who miss some of them to fill the gap.
Related products
C-48002
U.S. Pilot #2
1/48 scale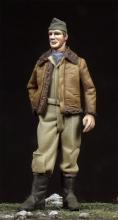 Your price:
7.90 €
To make a purchase you need to log in!